Vient de paraître:
Zsuzsanna Papp Reed, Matthew Paris on the Mongol Invasion in Europe, Turnhout, Brepols, 2022, 469 p.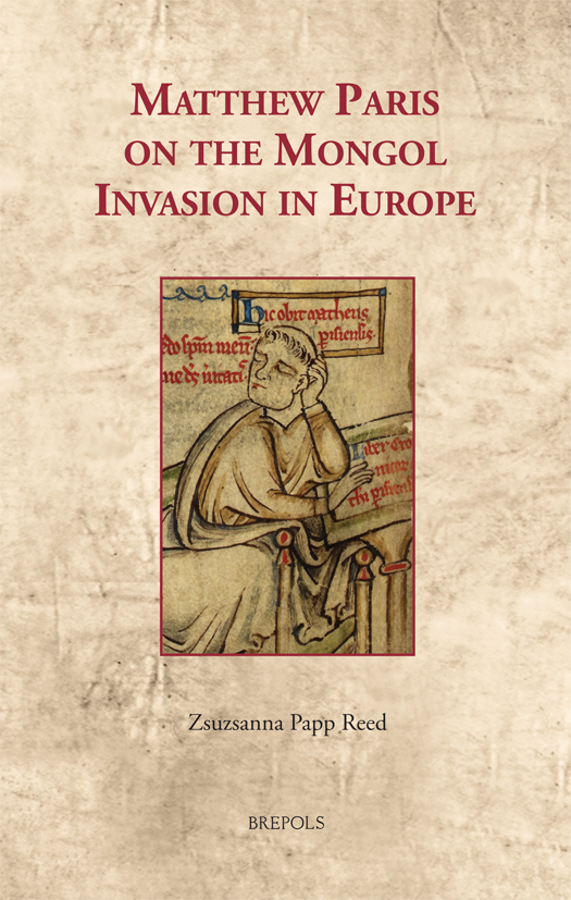 Présentation:
his is a novel, interdisciplinary study of the Mongol military campaign in Eastern Europe (1241–1242) — the North, as thirteenth-century Europeans saw the region — in the works of contemporary English chronicler, Matthew Paris of St Albans Monastery. Tracing the journey of his sources, the volume explores thirteenth-century information networks against the backdrop of the struggle between Emperor Frederick II and Pope Innocent IV.
Parallel to the history of information, the subject of the study is the Chronica majora and its afterlife, Matthew's chronicle world where the sometimes fictitious (and often very real) episodes of the Mongol story unfold. Tracing major landmarks in the meta-history of the Chronica majora, the author wishes to emancipate Matthew Paris as a historian — one in the series of a multitude of others who continue to write and rewrite the history of the Mongol invasion across centuries of historiography.
The volume is a handy companion both to scholars of English historiography and those who want to read critically the oft-cited primary sources of the history of the Mongol military operations in Europe.
Table des matières:
List of Illustrations, Abbreviations
Introduction
Chapter 1. Inside the Book
Mise-en-abîme Within and Without
The North by the Northwest
Chapter 2. Outside the Book
The Book in the Scriptorium
The Scriptorium in England
England in the European Networks
Chapter 3. Fright: Mongols in the North and East (1237-1240)
1237: Chaldeans, Medes, Persians, and Armenians
1238: Northbound to Hungaria major
1239: Dacia, Gothia, Frisia
1240: False Alarm and Irruption
Chapter 4. Fight: Mongols in the Middle (1241)
Holy War on the Mongols
The First 1241 Cluster
The Second 1241 Cluster
Chapter 5. Flight: Rivaling Stories of Retreat (1243-1248)
1243: The Tartar Khan's Englishman
1244: Frederick's Triumph
1244: The Man from Russia
1245-1248: Endgame
Chapter 6. Letters from the Afflicted Lands in the Additamenta
Chapter 7. The Afterlife of Matthew's Mongol Story
Chronicles and their Afterlife
Back to the Future: Modern historiography
Vice prologi
Appendix 1: List of Manuscripts
Manuscripts containing the Chronica majora and its fragments / continuations
Manuscripts containing Matthew Paris's Flores historiarum, and its fragments / continuations
Flores manuscripts listed in medieval catalogues
Notes on transcription
Further appendices
Bibliography
Index